Custom Branded Hand Sanitiser Pillar with Automatic Handsfree Dispenser - Each - SANIPILLAR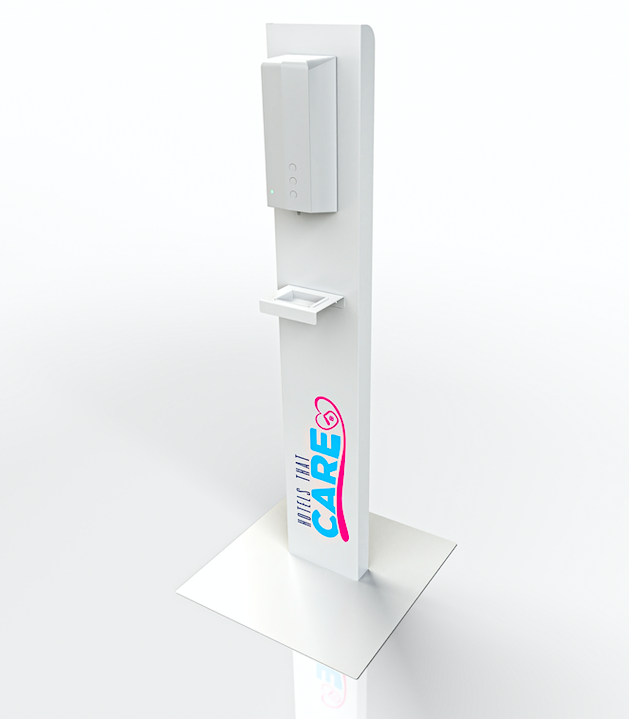 Description
Our powder coated hand sanitiser pillar dispensers are an essential addition to any retail environment or office space, helping you to combat the spread of Covid-19. This touch free sanitiser unit is part of our range of Coronavirus related products, You can view the full range here.
We offer a number of hand sanitisers to easily refill these units. Discounts available for bulk orders of sanitiser pillars and sanitiser itself. Please contact to discuss.
Product Features 
- 2mm Zintec Powder Coated Steel 
- Can be painted in any RAL Colour and branded with your logo
- 500x500mm slim line base (carpet tile size),1200mm high 
- Can fit any automatic dispenser unit, however comes standard with our handsfree automatic dispenser. 
- Drip tray 
- 304G or 316G Brushed Stainless Steel 
- Punched out lettering for logo's and branding • Full branding to your specification
- Rear storage for 5L bottles
- Electronic infrared sensor that stops the dispenser when the hands are removed from the detection field. 
- Capacity: 1000 ml. Refillable. 
- Automatic powered soap dispenser with infrared sensor for wall installation. 
- Available in White, Black and Stainless Steel 
- With content viewer and security lock. 
- Suitable for public places of high frequency of use. 
- LED shows that indicates when batteries need to be replaced. 
- Suitable for alcohol-based disinfectants, soap and foam soap with pump (pump not included). 
- Approx 3-5 day lead time. (get in touch if you need sooner) Discounts available for wholesalers and multiple units.
Earn
0
reward points with this purchase
Add This Product To Your Wishlist