Cocktail Napkins - Custom Printed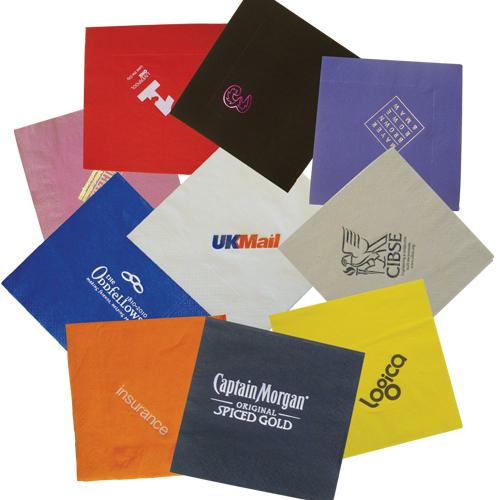 Our custom printed cocktail napkins are made in the UK and are an inexpensive way of adding that extra touch of quality to your venue or occasion. Personalised napkins are available in a range of sizes, materials & print options. Napkins can be printed using traditional Pantone matched inks or shiny metallic / bold opaque foil print, which gives stunning results. Hot foil print and ink print with solid coverage to one side. Another option is to blind deboss the logo onto napkins, which gives a subtle and sophisticated feel. The most popular sizes of napkins tend to be in one of three sizes - 25cm, 33cm & 40cm square (unfolded), which are supplied in quarter-fold format. Available in 2-ply & 3-ply tissue as well as 1-ply airlaid paper. Other sizes and folds are available.
We have a selection of coloured napkins to choose from & paper napkins can be customised using traditional inks or metallic foil print, which gives stunning results. We offer small quantities of personalised ink print napkins in 1 to 4 colours & even smaller quantities in metallic foil with very short lead times. We appreciate that every project is unique, and encourage you to get in touch to discuss your project today.