Custom Printed UKCA / CE Marked Paper Pint Cup - 20oz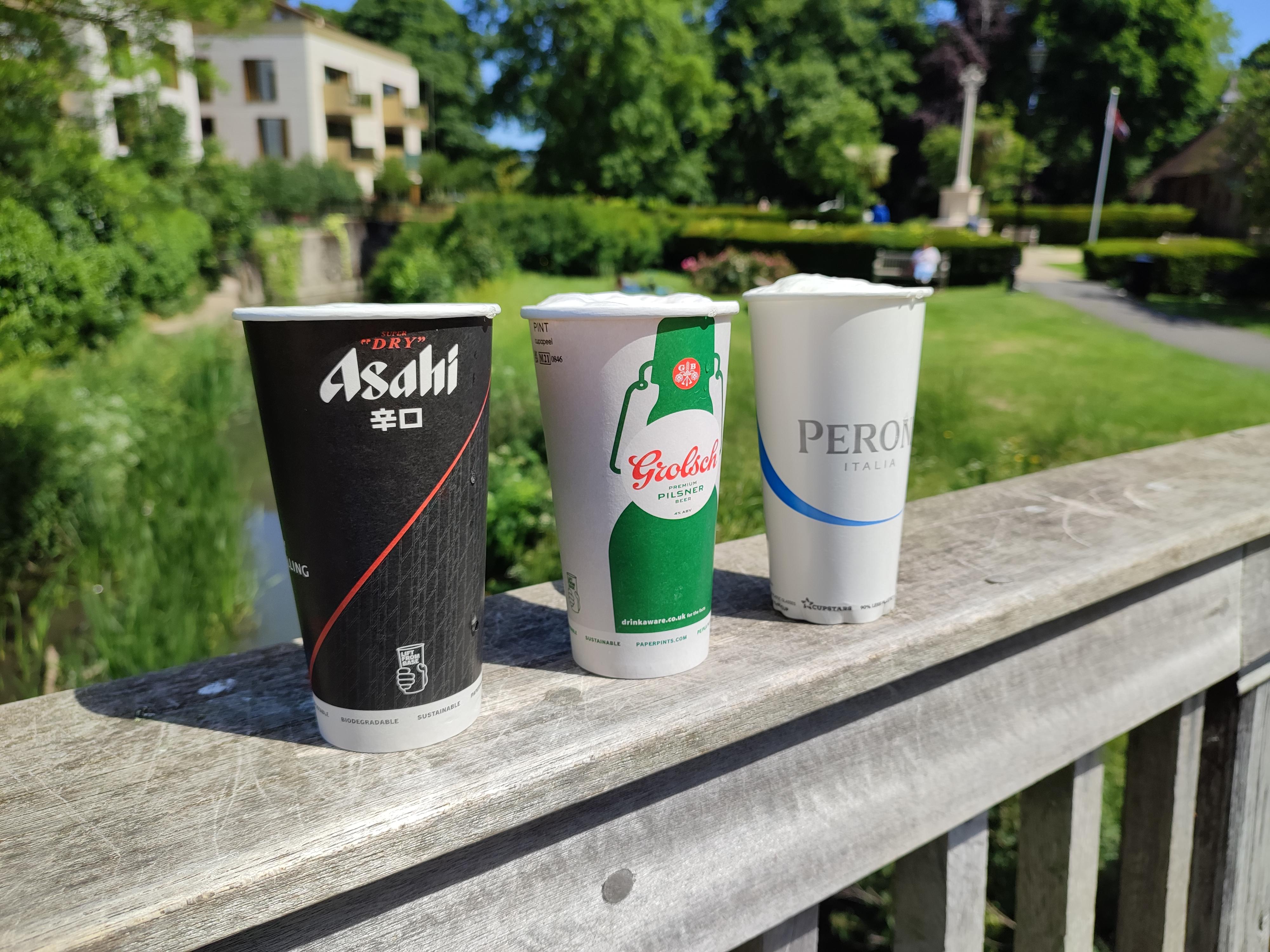 Description
We are delighted to present our Paper Pint Cups CE Marked. Our 20oz Cups are perfect for festivals, events, exhibitions and product tastings. Manufactured in the UK and fully brandable with your design. We offer complimentary in-house design to help you create the perfect look that's right for your brand.
We offer custom printed cups with your design and also stock unbranded cups if you prefer.
Low minimum order quantities (5,000 cups)
Fast turnaround
UK manufacturing
Choice of Linings
Storage & Disribution for bulk orders to multiple locations at set installments
Sedex & BRC approved factory
A Choice of Linings -  We offer a number of coating options for the inner lining of the cup including PE Plastic, Compostable PLA and our NEW PE PLASTIC & PLA FREE aqueous lining. This water based lining is engineered for both composting and recycling, making it the greenest solution in most cases. Unsure which option is best for your business? We would be happy to discuss your uses and give guidance on the best application for your project. Get in Touch to discuss.
What is CE Marking? CE marking is mandatory by law for glasses that are being used in licenced establishments to sell by measurements. This ensures the measure being served complies with EU and UK directives. Our UK Factory has been accredited to incorporate this CE Marking process for our Paper Pints & Half Pint Cups. Our cups are certified as trading standards approved and can be used with free-flow pumps. The cup satisfies the requirements under the scope of the Measuring Units Directive giving both the operator and customer confidence that the vessel contains the legal unit of measure of the liquid in question, usually beer, cider or ale. We also supply larger and smaller cups for use with spirits, soft drinks, wines and Metered Dispense Units MDU's. 
Go for Green offers a broad range of brandable items. Custom printing, low minimum order quantities and fast turnarounds possible on our range of Festival products. Branded products leave a lasting impression on your customers and improve their customer experience; we combine design and quality to create bespoke products you can be proud of.
At Go for Green we understand that every company's requirements are different, therefore we maintain as low as possible minimum order quantities on our brandable items trying to ensure you'll won't have to order more than you need. As specialists in branded products we know that the designing and printing of your food and drink packaging plays an important role in your businesses brand promotion. We ensure that every step in the manufacturing of your product is given the utmost care and attention. We would love to help you bring your vision to life. Please get in touch to discuss your project today.