KeepCup Original Reusable Coffee Cup Kinetic 12oz - Each - DY481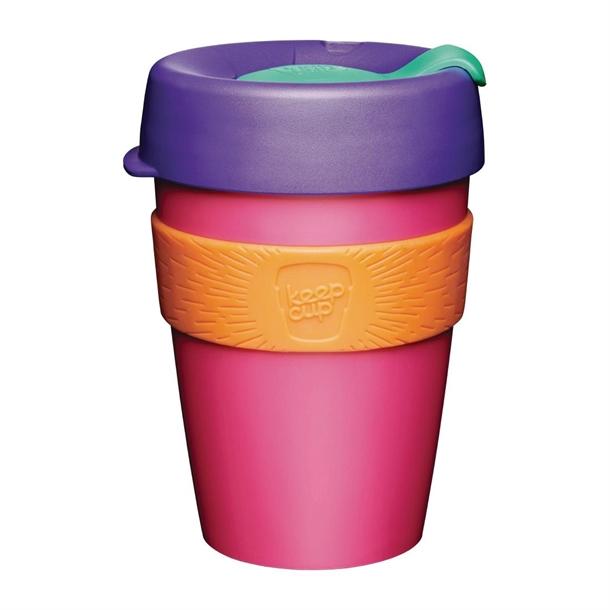 Description
Give your customers a chance to go green by offering them this 12oz Kinetic KeepCup Original reusable coffee cup. Designed to be sold in your venue as part of a loyalty scheme, this KeepCup will decrease the amount of single-use disposables consumed by you and your customers. This will help to divert more waste away from harmful landfill sites, save you money on disposable cups and give your business a positive, eco-friendly image.

The striking, multi-coloured design of this KeepCup is designed to catch the eye of your customers and encourage more sales. As functional as it is stylish, the innovative design means the KeepCup can also be easily taken apart for handwashing or convenient dishwashing on the top shelf.

High quality plastics make this reusable cup remarkably robust, guaranteeing a long-lasting life for your customers. Once finally at the end of its life, the cup, plug and lid can all be recycled, further adding to the environmental benefits of this KeepCup.
Product features
Capacity 340ml | 12oz
Dimensions 125(H) x 80(Ø)mm | 5(H)" x 3¼(Ø)"
Material Polypropylene
Weight 94g
Colour Pink
Works to reduce the consumption of single-use disposables
Easy to take apart when cleaning
Dishwasher safe on the top shelf
Can be safely heated up to 100°C with the lid and plug off
The cup, plug and lid can all be recycled
BPA and BPS free
Perfect for serving coffees, teas and iced drinks
The bright design will help to boost sales
Great for eco-conscious coffee shops, cafés and universities
Ideal for both commercial and domestic use
Earn
0
reward points with this purchase
Add This Product To Your Wishlist