Maxima Green Glass Window & VDU Cleaner - 1 x 750ml - T13MAX **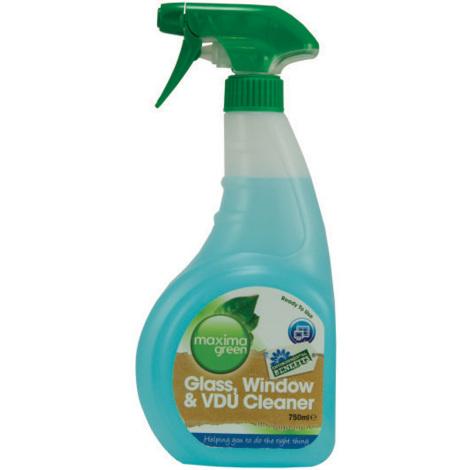 Description
Maxima Green Glass Window & VDU Cleaner - 1 x 750ml. Advanced formula to ensure a smear-free finish. Free from abrasives, it will not damage delicate surfaces and leaves a sparkling finish. Also contains anti-mist additives to prevent windows and mirrors steaming up.
The Maxima Green range of standard and concentrated products are manufactured in the UK and both meet and exceed current regulatory standards.
We also look at our packaging to ensure that while it needs to meet the standards for shipping and storing the products safely, it is either recycled or recyclable.


Product features
No harmful solvents
No animal testing
No strong acids
No caustic ingredients
Minimal impact on the environment
Sugar based and natural ingredients
ISO 14001 approved products
100% recycled / non-bleached paper
Exceeded all known legislation
Earn
0
reward points with this purchase
Add This Product To Your Wishlist