Sanitiser Set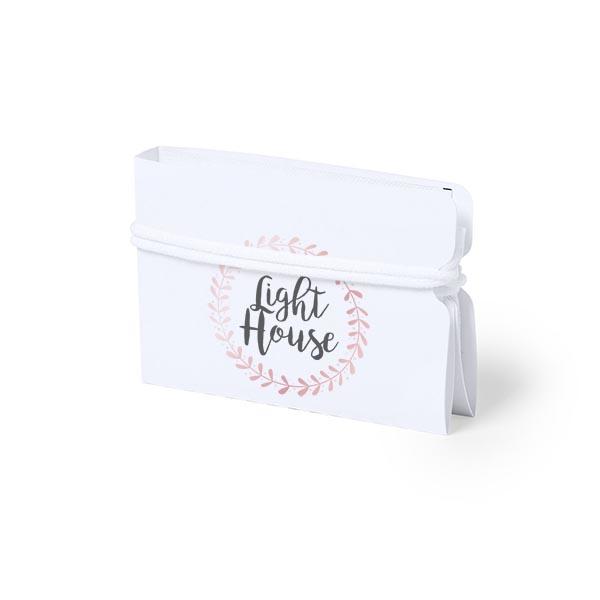 Minimum order quantity: 100
Description
Hygienic set containing mask, sanitizing wipe and mask holder.

Presented in a compact size mask holder case, made of resistant PP material with a white finish and a wide printing area.

1 x mask holder in resistant PP material.

Its compact size allows it to be comfortably kept in the pocket due to the original type of closure, provided by the elastic bands of the mask (not included).

With practical folding system, designed to obtain a quick access to the mask.

Easy to disinfect after use and available in translucent and solid white finishes, ideal for printing.

Hygienic triple-layer mask with heat-sealed finish, elastic fastening and adaptable nose clip for a tight fit.

Outer and inner layers made of Non-Woven (polypropylene).

Intermediate layer in Meltblown (composed of 90% polypropylene and 10% viscose).

In compliance with UNE 0064-1:2020 .

Mask Case PP.

Wipe 100% Compostable.

Hygienic Mask 3 Layers.

Outside 1: Non-Woven (Polypropylene) Middle Layer: Meltblown (90% Polypropylene/ 10% Viscose).

Outside 2: Non-Woven (Polypropylene) 1x hydro-alcoholic sanitizing wipe for cleaning and disinfecting hands and surfaces of frequent use (smartphones, shopping cart bars, keyboards.

.

.

) Manufactured in compostable material and presented in a 2 ml single-dose pack, with a wide printing surface.
Features
• Bacterial filtration efficiency (BFE) ≥ 95%
• Breathability (differential pressure) < 60 Pa/cm2
• Non-reusable
• Alcohol content: 70%
• Size of the wipe (unfolded): 15,5x16,5 cm
• Certification 94/62/EC available
• Wipe 100% Compostable
•
Dimensions: H70 x W80 x D20mm
Print Area: Front - 45 x 60mm - Tampo
Units per Carton: 400
Carton Dimensions: 34x30x38cm
Carton Weight: 6.00kg
Colours: Clear, White