Otto Wilde Electric Grill - DA777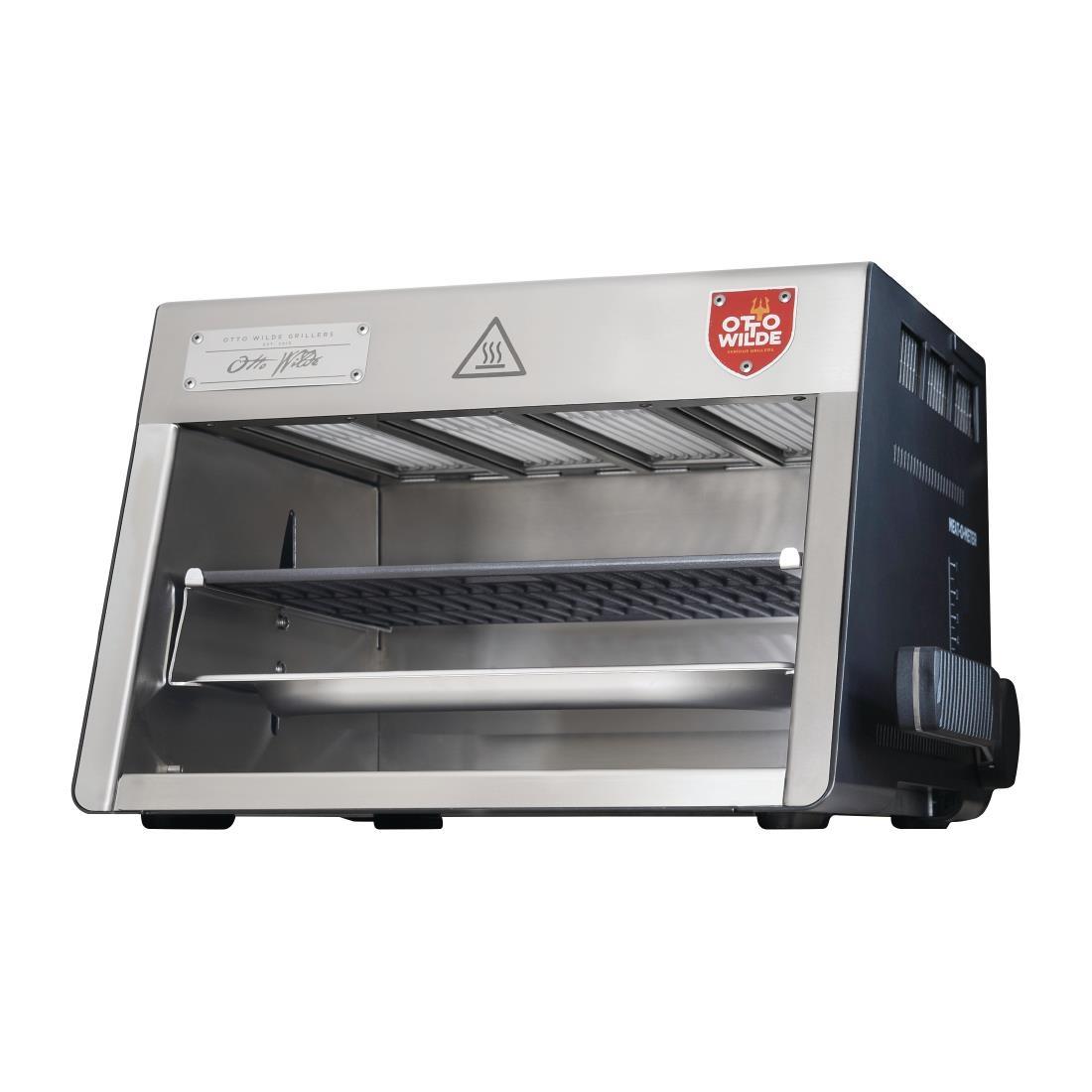 Description
Cooks up to 800°C. 3.3kW
Uses two separately adjustable infrared heating elements that can reach temperatures of up to 800°C within five minutes. Thanks to the extreme temperatures and the even heat distribution from above, your steaks will get a perfect crust while remaining tender and juicy on the inside. And the best thing is: you can connect Otto's Electric O.F.B. to a common power socket (220-240V).

Otto's Electric O.F.B. is certified for indoor usage, allowing you to grill the perfect steak in your kitchen. The combination with sous vide is now even more convenient. With Power Boost to 800°C. Otto's Electric O.F.B. has two separately adjustable infrared heating elements. In normal operation the heating elements reach temperatures of 650°C, achieving an output of 1500 Watt. With the Power Boost function the power of one heating element at a time can be increased to 2000 Watt, resulting in temperatures of up to 800°C.

You can choose which one of the two heating elements you want to boost. That way, you can give your steak that perfectly seared crust. Enough space for all cuts and easy clean-up. The spacious grill grate offers enough space for all cuts, even the biggest Porterhouse steak. The removable top gives unparalleled cleaning access, making it easier than ever to clean your grill after using it. The grill grate height can be flexibly adjusted with the detachable lever. Compatible with the Gas O.F.B. Thanks to its modular design you can easily transform your Gas O.F.B. into an Electric O.F.B and vice versa, simply by exchanging the top unit. Except for the heating elements all features of the O.F.B. remain the same, making all equipment 100% compatible. Otto's Electro O.F.B. is made in Germany.
Specifications
Dimensions: 420(H) x 400(W) x 320(D)mm
Material: Stainless Steel
Warranty: 2 Years
Weight: 19kg
Brand: Otto Wilde
Earn
0
reward points with this purchase
Add This Product To Your Wishlist