SURE Antibac Hand Wash Intellicare - 4 x 1.3L - 101100799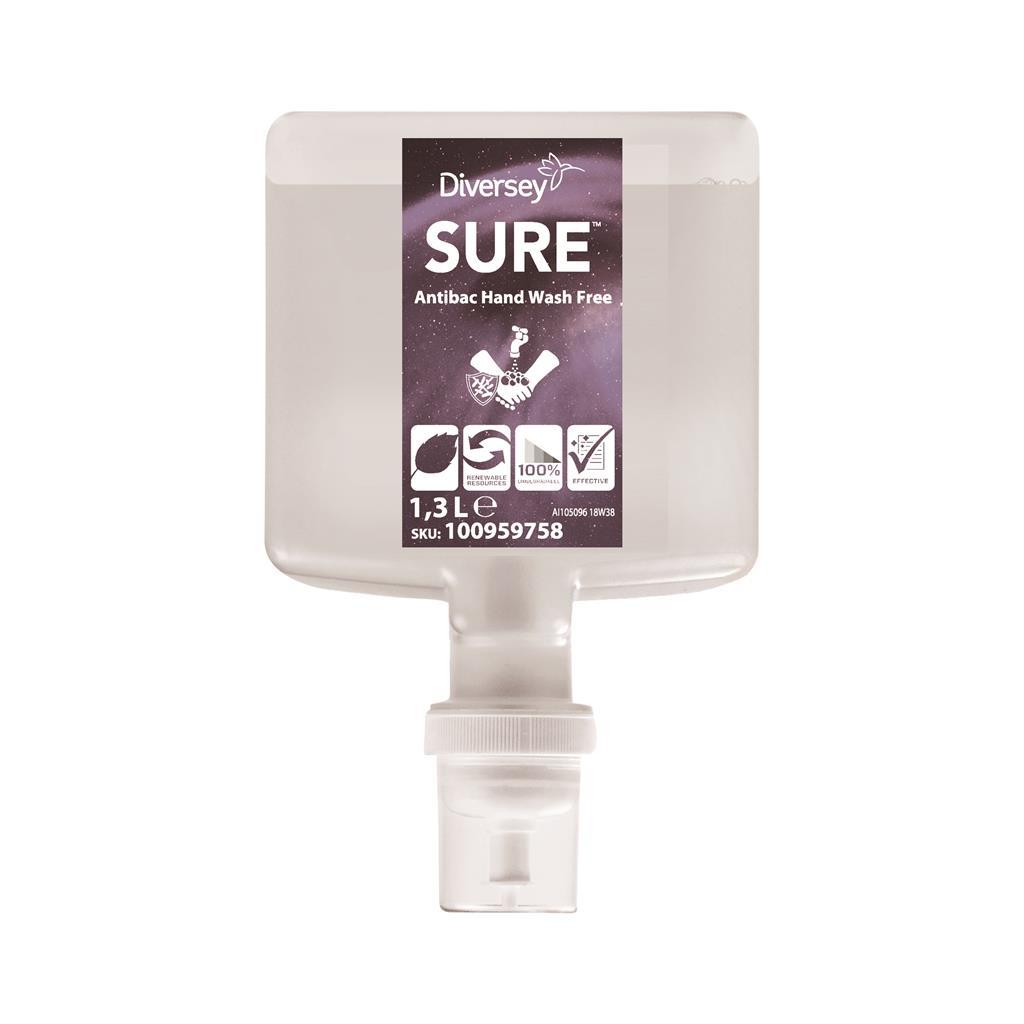 Description
SURE Antibac Hand Wash Free is part of a unique range of plant based, 100% biodegradable* professional products for all daily cleaning and personal care needs. SURE Antibac Hand Wash Free is a perfume and dye free hand disinfectant soap that ensures the highest disinfection standards are achieved. Its tough action formula with proven skin mildness makes it a great product for use in food preparation areas and anywhere where hygiene is a must. SURE Antibac Hand Wash Free has a good safety profile; it is biodegradable* and completely non-classified.In addition to being a mild hand soap, the disinfection properties of SURE Antibac Hand Wash Free are tested under EN 14476 against enveloped viruses (Influenza A/H1N1) similar to the SARS-CoV-2 virus. 

Cleans and disinfects hands in one easy step
Contains plant based actives from renewable sources
100% biodegradable and decomposed by natural processes
No environmental hazard classifications, no safety warnings for product in use for user
Extensively proven skin mildness (ROAT, TEWL & Patch tests)
No dye and or perfume
Passes the latest BPR test requirements for hand disinfection
Based on lactic acid, an organic based ingredient from natural sources that inhibits the growth of micro-organisms including bacteria, yeasts and fungi
Passes EN test standards: EN1499, EN13727 and EN13624 (yeast only), EN1276 and EN1650, EN1650, and EN14476 against (Influenza A/H1N1) similar to the SARS-CoV-2 virus.
Harnessing the power of nature to reduce environmental impact and bring peace of mind. Non classified to ensure it is safe and easy to use protecting the health of your organization. Highly efficacious to prevent the spread of foodborne illnesses and the spread of infections, protecting your brand. Proven mildness to protect the skin health of your users. Non perfumed to protect the quality of food flavors in the serving and preparation of food.
Earn
0
reward points with this purchase
Add This Product To Your Wishlist