SURE Floor Cleaner DiverMite Pouch - 4 x 1.5L Pack - 100919506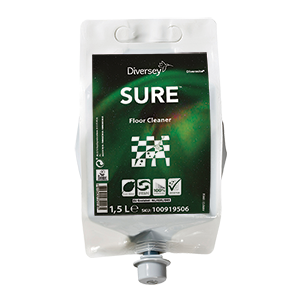 Description
Clean your premises effectively and sustainably with this pack of 4 x 1.5Ltr Diversey SURE floor cleaner concentrate bottles. Made entirely from plant-based materials, this floor cleaner is free from hazardous substances and fully biodegradable. This means it won't damage the environment as it breaks down and will protect the health of staff and customers when used to clean your floors.

Designed to ensure professional cleaning results every time, this chemical will effortlessly power through tough stains, dirt and oil without creating large amounts of foam. This will make it easy for you to get your floors dazzlingly clean, hygienic and ready in time for the next service.

Colour-coded labelling on each bottle also means this chemical is easy to identify, preventing any mix-ups when your staff come to carry out their cleaning duties. The concentrated solution also allows you to dispense this chemical with a dosing system. This will guarantee efficient and cost-effective cleaning every time.

Capacity 1.5 Ltr
Colour Clear
Suitable for cleaning all water-resistant hard floors
Can be used for all cleaning methods including bucket and scrubber drier applications
Made entirely from renewable, plant-based ingredients such as sugar beet, maize, straw bran, wheat bran and coconut
This floor cleaner is completely biodegradable and won't cause harm to the environment when it breaks down
Free from hazardous artificial dyes, perfumes, chlorine, quats, phosphates and oxide compounds
Made to meet the lowest possible hazard classification
Made with colour-coded labelling for easy identification
The concentrated solution offers superb cost savings and allows for efficient chemical dosing
The concentrated formula also means less packaging waste is generated

The power of nature
SURE is a comprehensive offering of plant-based, 100% biodegradable* cleaning products designed to deliver superior professional results while being safe for people and kind to the environment. With environmentally-friendly ingredients from renewable resources, SURE products meet all your daily requirements for kitchens, facilities and personal care.
For safe and sustainable cleaning
SURE cleaning solutions deliver the cleaning performance you need to protect the health and well-being of your guests and employees, while enhancing your brand reputation.
The plant-based ingredients contained in SURE products are typically derived from by-products of the agro-food industry, originating from sugar beet, maize, straw bran, wheat bran and coconut. The products contain no artificial dyes, perfumes, quats, chlorine, phosphates or oxide compounds, and are formulated to achieve the lowest hazard classification without the need for gloves and goggles during cleaning.**
From the experts you trust
Diversey is the world leader in complete industrial and commercial hygiene and sanitation solutions. We understand the cleaning challenges you face every day, and we care deeply about improving people's lives with sustainable and effective professional solutions. With over 90 years of experience and a global footprint in 175 countries, we know our business, and we understand yours. 
Earn
0
reward points with this purchase
Add This Product To Your Wishlist