Delivery Timer: How long will my order take to arrive?
We publish expected leadtimes on our product pages. Most of our products are available for delivery in 1-2 days to our yellow, purple and blue zones (see map below). For offshore & remote areas (red zones in map below) please allow extra time.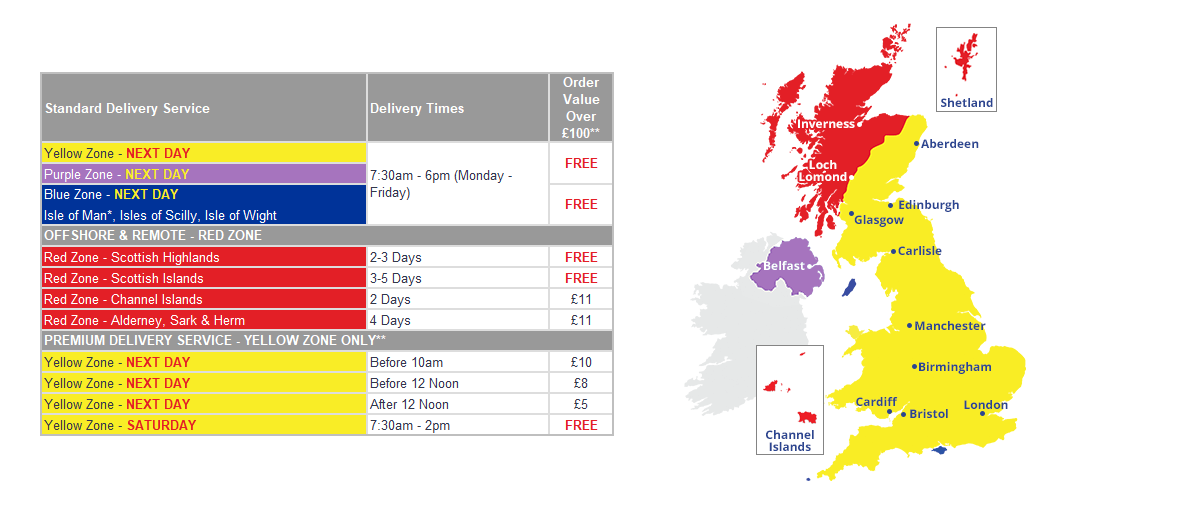 PLEASE NOTE: All prices (charges and thresholds) quoted on this page are exclusive of VAT.
Yellow Zone
The following yellow zone post codes are despatched on a 48hr service:
AB30, AB32, AB41-44, AB51, AB99,
DD8-9, DD10, DG7-9,
FK8 3**, FK15, FK16,
IV4-9, IV63,
PH10, PH11, PH13, PH14,
TD15 2**.
Blue Zone
Liquids over 1ltr will be shipped on a 48hr service.
Order Value
**Items advertised with extended delivery lead times are not eligible for our premium delivery options.
You will need to be in to sign for your delivery. For parcels where this is not possible residential addresses can now pickup, after the initial delivery attempt, from the post office. Please look out for your failed delivery card for details of your local collection point. For Trade addresses, two delivery attempts will be made before goods are returned to the local depot for collection.
Delivery times are between:
7:30am - 6pm (Monday - Friday)
For parcels exceeding 30kg in weight, our carriers will require assistance when delivering to your premises. Deliveries are made to the ground floor entrance, and will not be taken into the premises
Where do you deliver to?
We deliver to UK mainland as standard. This does not include Northern Ireland, Scottish Islands and Highlands, Channel Isles, Isle of Man, Isle of White, Scilly Isles, Republic of Ireland. Services for these regions range from 1-5 days delivery. Delivery cost for your items to these regions can be quoted separately. Please Contact Us via our Contact Page or email us on hello@goforgreenuk.com
Delivery Carbon Footprint
Please note that our carriers vary depending on the products you have ordered. We draw different products from different warehouses and some orders can be delivered by multiple carriers. This results in a lesser carbon footprint and faster turnaround than shipping everything to a central warehouse before routing the consignment on for the final delivery, reducing the number of miles travelled by each product. Every little bit we can do to reduce our carbon footprint helps and our commitment to the environment is at the heart of all that we do. More about our Sustainability Policy here.
Kerbside/Shopfont Delivery
We, like our competitors offer kerbside delivery as standard. Our delivery couriers (or transport companies for larger equipment) can only deliver kerbside as a rule. Drivers are not required to deliver goods to storerooms, or different floors within businesses.
On larger equipment that we supply we can offer further delivery options and/or installation options if required. These must be discussed in advance and in some cases require a site survey.
Delivery hours are 9am to 6pm. Timed deliveries with shorter windows may be possible, and if required please Contact Us to discuss.
Failed or aborted deliveries may incur additional charges which we must pass on to you unless the error is our fault.. If in doubt please do contact us to discuss in advance. Please Contact Us via our Contact Page or email us on hello@goforgreenuk.com
Areas we Cover Include
Aberdeen Aberdeenshire Abergavenny Aberystwyth Andover Angelsey Argyle and Bute Angus Armagh Ascot Ashby de la Zouch Ashbridge Avon Ayreshire Banbury Bangor Barking Barnet Barnsley Barnstaple Basingstoke Bath Bedford Bedfordshire Belfast Berkenhead Birmingham Blackburn Blackpool Blackwood Bakewell Bideford Blaenavon Blaenau Gwent Blakeney Blandford Bletchley Bognor Regis Bolton Boston Bournemouth Burton on Trent Bury Bracknell Bradford Brentwood Bingley Bridgend Bridgenorth Bridgewater Brighton and Hove Bristol British West Hartlepool Brixham Brixton Bromley Brynmawr Buckingham Bucks Buckinghamshire Burnham on Sea Burnley Burton on Trent Bury Buxton Caerphily Calderdale Camberwell Cambridge Cambridgeshire Camden Canterbury Cannock Cardiff Carlisle Carmarthen Carmarthenshire Ceredigion Chatham Chelsea Cheltenham Chepstow Cheshire Cheshunt Chester Chesterfield Chigwell Chippenham Chipping Sodbury Cirencester City Clackmannanshire Clacton Clapham Cleethorpes Clevedon Cleveland Coalville Colchester Conwy Coleford Conningsby Corby Cornwall Coventry Chichester Cornwall County Antrim County Armagh County Down County Coventry Crawley Crewe Croyden Cumbria Cwmbran Dagenham Darlington Dartford Daventry Edgbaston Deal Denbighshire Derby Derbyshire Devon Dimchurch Doncaster Dorking Dorset Dover Droitwich Dublin Dudley Dumfries and Galloway Dundee Dungeness Durham Ealing East Dunbartonshire East Riding of Yorkshire East Sussex Riding Eastbourne Ebbw Vale Edgbaston Edinburgh Ellesmereport Elstree Ely England Enfield Epping Esher Essex Evesham Exeter Falkirk Falmouth Fife Finchley Fishguard Flintshire Folkestone Fulham Gainsborough Galway Gateshead Gatwick Glamorgan Glasgow Gloucester Gloucestershire Gosport Grantham Gravesend Great Barr Great Yarmouth Greater Manchester Greenwich Grimsby Guildford Gwynedd Hackney Halesowen Halifax Halton Hammersmith Hampshire Handsworth Harlow Harrow Harrowgate Hastings Hatfield Haverford West Hay on Wye Heathrow Hemel Hempstead Hereford Hereford and Worcester Hertfordshire Herts Highland High Wycombe Hinckley Hoddesdon Holbeach Horncastle Hull Ilford Illminster Immingham Inverclyde Inverness Jarrow John O'Groats Keithley Kensington Kent Kettering Kidderminster Kingston upon Hull Kirklees Knowlesly Lampeter Lanark Lanarkshire Lancashire Lancaster Lands End Leatherhead Leeds Leicester Leicestershire Lewisham Lichfield Limerick Lincoln Lincolnshire Lisburn Liverpool London Londonderry Long Easton Lothian Lowestoft Loughborough Luton Lyndey Magor Maidenhead Maidstone Man Manchester Mansfeild Mapperly Market Harborough Margate Marylebone Mansfield Matlock Medway Melton Merthyr Middlesborough Midlothian Milford Haven Milton Keynes Monmouth Monmouthshire Moray Morecombe Mowbray Merseyside Moreton in the Marsh Neat Newark Newcastle upon Tyne Newcastle under Lyne Newport Newry Norfolk North Yorkshire Northamptonshire Norwich Nottingham Nottinghamshire Northampton Northumberland Nuneaton Oldham Orkney Orpington Oundle Oswestry Oxford Oxfordshire Paddington Paignton Pembroke Pembrokeshire Penarth Penzance Perth and Kinross Peterborough Plymouth Poole Pontypool Pontypridd Port Talbot Porthcawl Portishead Portsmouth Powys Preston Ramsgate Reading Redcar Redhill Reditch Reigate Renfrewshire Retford Richmond Rickmansworth Rochdale Rhondda Cynon Taff Richmond Rothwell Rotherham Royal Leamington Spa Rugby Runcorn Ripon Rochdale Rochester Romford Ross Rotherham Rutland Salford Salisbury Sandwell Sandwich Scilly Scotland Scottish Borders Scrampton Sefton Shepton Mallet Shetlands Islands Sevenoaks Slough St Neots Seaford Sheffield Skegness Smethwick Somerset Spalding Sleaford Soho South Sheilds Shropshire Solihull South Cerney South Yorkshire South Wales Southampton Southend On Sea Staines Stafford Staffordshire Stanstead Sterling Stevenage Stockport Stockton on Tees Stourbridge Streatham Sutton in Ashfeild Stoke on Trent Sunderland Southampton Southend-on-sea Sutton Coldfield St Albans St Asaph (Llanelwy) St Davids St Helens Staines Stamford Staffordshire Stirling Stirlingshire Stoke on Trent Stratford upon Avon Stroud Suffolk Sunderland Surrey Sussex Sutton Swadlingote Swanley Swansea Swindon Tadcaster Tameside Tamworth Taunton Telford Tewkesbury Thurrock Tipton Tonbridge Wells Torbay Torphaen Torquay Tower Hamlets Towcester Trafford Tring Truro Tyneside Tyne and Wear Uckfield Upton on Severn Uxbridge Wakefield Walsall Wakefield Wandsworth Wapping Warrington Warwick Warwickshire Waterford Watford Wath upon Dearne Wednesfield Wellingborough Wellington Wells Wembley West Bromwich Dunbartonshire West Midlands West Sussex West Wrekin Yorkshire Westerham Weston Super Mare Westminster Weymouth Wexford Whitney Widnes Wigan Wigston Wicklow Wiltshire Winchester Windsor Wirral Wisbech Woking Wokingham Wolverhampton Woodhall Spa Woolwich Worcester Worcestershire Worksop Worthing Wrexham York Yorkshire and more.